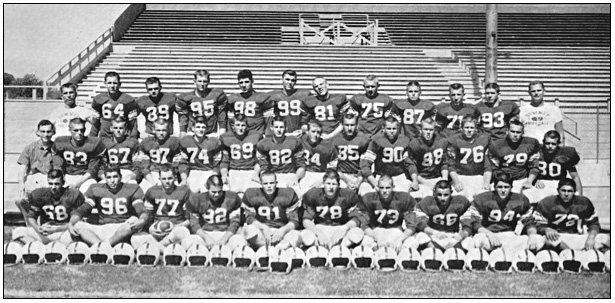 The 1957 Vikings were the last team to win a CIF football title at Downey High School. The team reunited last week, 50 years later.
Photo courtesy Fred Gallagher
DOWNEY­The headline in the Los Angeles Times the day after  the game read "Downey smashes San Diego, 24-7." The story called  them "precision-working Vikings," a team that, according to the article, marveled the crowd with their beautiful ball handling skills and heavy  dose of trickery. On this night these Downey Vikings of 1957 won the  school's last CIF title.
Fifty years later, most of the same team sits inside the Embassy  Suites right across the street from where those memories were made.  Laughing and chatting it up, heroes from those days remember the final game and that season.
The game plan was simple according to ex-Head Coach Gus  Headington who is now retired back in Yuma, Arizona. More importantly, Headington knew what to expect from San Diego High School.
"We felt they were better than us," he said as one of his ex-players laughed in the background. "They had more skill players than we do. When they get the ball they score." 
"Now we said, we can not let them have the ball," he continued.  "So we did onside kickoffs every time. We recovered three of the four  onside kicks. And I said I donıt care when it comes fourth down, if itıs  less than five yards to go, weıre going for it." 
And the strategy worked. Without controlling the ball, San Diego  was unable to run up the score allowing for Downey's offense to grind  there way to a victory. According to Headington, that was the most perfect game he had ever watched a team he has coached. 
It had to be as the San Diego Hillers had not lost all season and  were heavy favorites to win the game. 
"We would've lost to them maybe nine out of ten games," he said.  "We beat them on their home turf at San Diego at Balboa Stadium." 
With the likes of all-league players such as Ed Williams, Bob  Harris, Steve Skinner, Pete Yoder, Dallas Moon and Fred Gallagher  that one out of ten came to life on the beautiful night that was Dec. 13,  1957. 
Gallagher said the win on that night was a complete team effort.  Accordingto him, there werenıt any real superstars like a Randy  Meadows from the year before's team. It was just a good mixture of  a bunch of people who tried hard and over achieved at that time he  said.